'Call of the Wild' Is Presented By:

---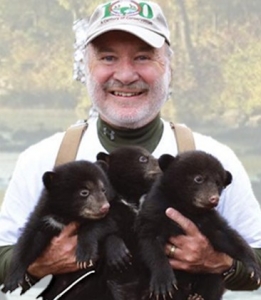 Call of the Wild is a one-hour radio show that is broadcast live each Saturday morning from 6 a.m. to 7 a.m. CST over KARN FM 102.9, a Cumulus Broadcasting Company station in Little Rock, Arkansas. It covers everything the from birds to butterflies, trout to striper and everything in between. Wildman Wilson will bring in various "experts" in the field to let people know what is happening in the Natural State. Of course he will inform you where the fish are biting and the best place to hunt, but he also talks about camping, hiking, photography and wildlife viewing. Something for everyone that enjoys the great outdoors.
Steve Wilson, better known to Arkansans as "Wild Man," earned his nickname in 1984, when he became the Arkansas Game and Fish Commission's coordinator of Project WILD. Born in 1950, Steve grew up in southwest Little Rock. He holds a bachelor's degree from Southern Nazarene University in Bethany, Oklahoma, and a master's of business administration from the University of Central Oklahoma in Edmond. He began his career with AGFC as a hunting safety training officer in 1978, and was named chief of the Information and Education Division in 1987. He will retire from the AGFC public affairs coordinator in April 2016. Along the way, Wild Man has earned the AGFC Employee of the Year Award twice, and the Arkansas Wildlife Federation's Conservation Communicator of the Year Award twice. He also received the Ducks Unlimited Jerry Jones Sportsman of the Year award in 2011. Steve was the host of "Talkin' Outdoors," a 30-minute, weekly television program. He also hosted and produced the "Call of the Wild," a weekly, statewide radio broadcast. Steve enjoys sharing time with his wife, Gail, his daughter, Celeste, her husband, Nathan, and grandson, Luke. He's an avid deer and turkey hunter, likes competitive sports and collects hats and turkey calls. Steve is continuing his legacy with the Call of the Wild with the flagship station News Radio KARN after his retirement and your business can be a part of this exciting show.